I'm getting the tattoo itch,
bad
. For the past four years I have been steadily getting tattooed trying to finish my sleeve and since it's finished, I haven't been tattooed in a year.
I read some blogs today about peoples new tattoos and it's happening.
Sometimes I get the itch for babies but the itch for tattoos is more attainable.
I have this amazing idea for my next sleeve (or, I think it's amazing) but I don't want to share because I don't want people to steal it. That's really lame, I know. I've had the idea in my head for awhile now and some of my real life friends know it but I'll keep it under wraps until I get started.
My first sleeve just kind of happened. I knew I wanted 4 pin up girls and they took up a big chunk of my arm but the background took me
forever
to decide. I threw around the idea of flowers or a geometric pattern but I didn't love those ideas.
I don't remember how the idea came to be but a lightbulb when off one day and I decided to get postcards from various states I've either lived in or visited. I love traveling. If I could not work and just travel the world, I would do it in a heartbeat.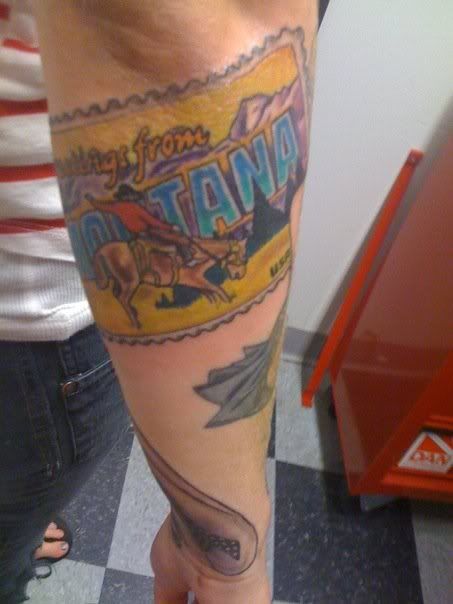 I got the postcards from a set that the postal service put out. They are actually stamps and somewhat vintage looking.
I don't have any good pictures of my sleeve all the way complete, I should probably do that. I love it though. My artist also told me it was one of the most original sleeves he's worked on and also that he will never do postcards again! They were so intricate and came out awesome but they were a lot of effort.
I can't imagine not having my tattoos. They are a part of me now and I can't wait to add more. I can't wait to be that little old lady with the wrinkly colorful skin who has grandkids crawling all over her. I'll have stories to tell and no regrets.