I have some sad news. I didn't get the American Nightmare tickets.
I had an alarm set on my phone, I was logged onto the computer all day waiting patiently and then 5 minutes before they went on sale, I was put into a "waiting room" that I never was able to get out of. I had two computers going and tried to call but was told they sold out in 30 seconds. SECONDS.
I may have cried. I may have lashed out at Matt. I may have been irrational. I'm so sad and feel kind of stupid for feeling so sad. We do know a girl that works at the label that's putting on the show so we're hoping by some small miracle we can entice her with some delicious dinner to do us a favor. Or I'll just go to the venue and sneak in through the roof. Or stand out in the parking lot and pretend I'm inside.
To drown our sorrows, we bought tickets to Fright Night at Fenway Park. Hopefully being scared will make me forget.
In honor of Halloween, I'll show y'all what I dressed up as 2/3? years ago. I flew out to Los Angeles for a Halloween party. Those were the days. One of my friends' friend throws a pretty awesome party every year and we spontaneously decided to go. I had just started dating Matt so I really wasn't into meeting anybody but this guy who was on the show, and I quote, "Parks and Rec" talked to me the whole night. So LA. I don't know if he thought I gave a shit, but I didn't. After awhile, I took him inside and made him listen to some hardcore. HA. I'm so smooth. Matt and I still laugh about him. I have no idea if he was on that show, I don't watch it but Matt says he's never seen him.
Onto the costume, I went as Octomom, which I thought was fitting for being in Hollywood. Finding 8 plastic babies in LA was no easy task, but I made it happen. ps. My lips are not really that big.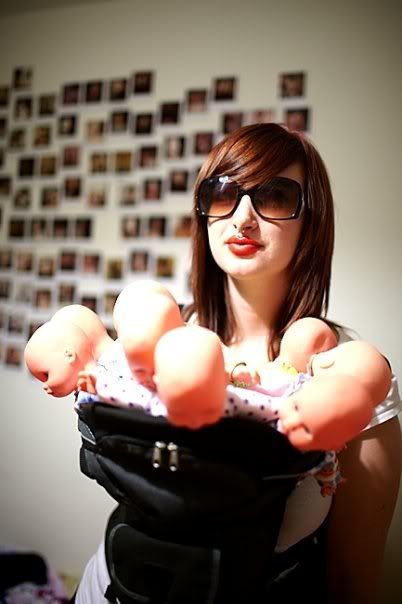 Happy Halloween-eve, I'm going to go shovel my car out. F-this.